The area of land around the town of Alexandria and the Tower of Alexandria to the southeast, expanding from the bridge over Pirate's Cove to the path to Port Prospect.
Alexandria
The hometown of Jessica Albert, our third party member. It is a small town with a great mansion at the end. This Mansion belongs to the Albert Family.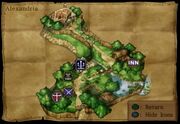 Ad blocker interference detected!
Wikia is a free-to-use site that makes money from advertising. We have a modified experience for viewers using ad blockers

Wikia is not accessible if you've made further modifications. Remove the custom ad blocker rule(s) and the page will load as expected.