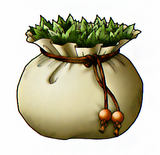 Antidotal herb is a healing item in the Dragon Quest series. It is used to alleviate the poisoned status effect.
Monsters in Dragon Quest IX that drop this item: Cruelcumber, Sacksquatch, Bubble Slime, Gastropog, Bodkin Fletcher, and others.
Similar items: Special antidote and Strong antidote.
Appearances
Dragon Quest IX (DS)
Item
Price
Attributes
Antidotal Herb
10 G
A helpful herb that purges the scourge of poison from a single ally.

Rarity:

This article is a stub.
Please help Dragon Quest Wiki by expanding it.