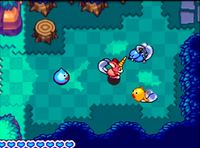 Backwoods is the fourth area in Dragon Quest Heroes: Rocket Slime. It is the shortest, and easiest area in the game. The only enemies that appear here are Goodybags. You go here to rescue your sister, Bo, from the Woodlums and fight Slival for the second time.
Enemies
Goodybag appears rarely
Items
Chest
Slimes
Early Burly
Drake
Tokyo Tom
Gooshido
Goosashi
Bo
All Slimes Found Reward
Clap Trap
Ad blocker interference detected!
Wikia is a free-to-use site that makes money from advertising. We have a modified experience for viewers using ad blockers

Wikia is not accessible if you've made further modifications. Remove the custom ad blocker rule(s) and the page will load as expected.