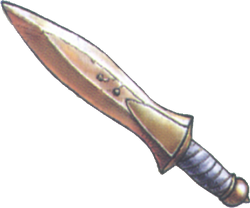 Bronze knife is a recurring weapon in the Dragon Quest game series.
Appearances
 Bronze knife
Attack
+10
Buy Price
200 G
Sell Price
100 G
Flavor text
A nifty knife made of a softish alloy.
Notes
Rarity:
Locations
Equipping characters
Characters



This article is a stub.
Please help Dragon Quest Wiki by expanding it.