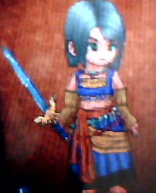 The
Dancer's dress
is a torso armour in
Dragon Quest IX
. It can only be equipped by female minstrels.
Characteristics
The Dancer's dress consists of a purple brassiere and a long skirt beginning around the stomach.
Appearances
Dancer's dress - Dragon Quest IX
Stat boosts
Defense +39
Flavour text
"A gorgeous garment that's great for girls on the stage."
Info
N/A
Found
Alchemy : Dancer's costume + Brighten rock x3 + Technicolor dreamcloth

Quest 101

Buy price
???
Sell price
2900
Equipped by
Female minstrels
Trivia
Related articles
Ad blocker interference detected!
Wikia is a free-to-use site that makes money from advertising. We have a modified experience for viewers using ad blockers

Wikia is not accessible if you've made further modifications. Remove the custom ad blocker rule(s) and the page will load as expected.