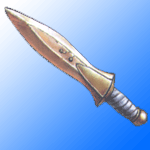 Divine dagger is a recurring weapon in the Dragon Quest game series.
Appearances
The divine dagger has an attack bonus of +14.
Info
 Divine Dagger
Attack
+18
Buy Price
640 G
Sell Price
320 G
Flavor text
A bitsy blade bathed in holy light that zealously zaps zombies.
Notes
Rarity:
Upgrades to Poison moth knife and Icicle dirk
Locations
Equipping characters
Characters



This article is a stub.
Please help Dragon Quest Wiki by expanding it.