Divine dagger
Japanese name
せいなるナイフ
Rōmaji
Seinaru naifu
Introduced in
II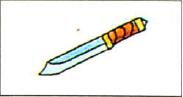 The Divine dagger, also known as the magic knife or simply knife, is a recurring weapon in the Dragon Quest series. It is a simple weapon that can be wielded by any character or vocation, making it useful for those who cannot wield heavier weapons.
Appearances
The divine dagger has an attack bonus of +12. It can be purchased from Leftwyne, Moonahan, and Rippleport for 200 gold and sold for 100. The divine dagger can be equipped by all three characters. It is the only bladed weapon that the Princess of Moonbrooke can equip and is a worthwhile upgrade from the cypress stick.
The divine dagger has the attack bonus of +14. It can be equipped by all classes.
The divine dagger has an attack bonus of +14. This weapon appears in remakes of the game, replacing the Thorn Whip.
The divine dagger has an attack bonus of +14 and a style bonus of +7. It can be equipped by all characters and can be purchased in various shops for 200 gold. One can be found in Burnmont.
Info
 Divine Dagger
Attack
+18
Buy Price
640 G
Sell Price
320 G
Flavor text
A bitsy blade bathed in holy light that zealously zaps zombies.
Notes
Rarity:
Upgrades to Poison moth knife and Icicle dirk
Locations
Equipping characters
Characters



This article is a stub.
Please help Dragon Quest Wiki by expanding it.
Ad blocker interference detected!
Wikia is a free-to-use site that makes money from advertising. We have a modified experience for viewers using ad blockers

Wikia is not accessible if you've made further modifications. Remove the custom ad blocker rule(s) and the page will load as expected.