A Dragon Top is a piece of torso armor used in Dragon Quest IX. It can be made using alchemy, or bought in a shop.
Appearances
Dragon Tops are a deep red color, with black sleeves. They are made specifically for martial artists.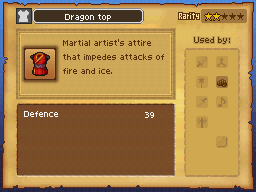 Game name
 Dragon Quest IX: Sentinels of the Starry Skies
Info
Dragon Top
Buy Price
11,200G
Sell Price
5,600G
Locations
Equipping characters
Specifically made for martial artists. Cannot be worn be other professions.
Related articles