Dragon Quest VIII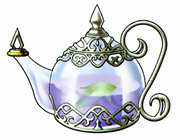 The Elfin elixir fully replenishes the target's MP.
Recipe: Yggdrasil Dew and Magic Water
Dragon Quest IX
Name: Elfin Elixir Desc: An enchanted elixir that totally tops up an ally's MP.
Rarity: 2 stars
Found: Cap'n Max Meddlin for 5 Mini Medals after you have given him the first 80 medals.
Recipe: Yggdrasil Leaf x 1, Royal Soil x 3, Nectar x 5 Buy: N/A (except for DQVC) Sell: 1500 gold
Related Items
This article is a stub.
Please help Dragon Quest Wiki by expanding it.