Enchanted stone
Japanese name
せいれいせき
Rōmaji
Seirei seki
Introduced in
IX
An Enchanted stone is a stone made using alchemy in Dragon Quest IX. It can be used to make many things using alchemy.
Enchanted stones can be made using two thunderballs, two ice crystals and a mystifying mixture. The mystifying mixture is also made with alchemy, while the thunderballs and the ice crystals can be found lying on the ground in certain spots (see Map of material locations in Dragon Quest IX)
Enchanted stones can also be found in chests, and one enchanted stone is dropped by the boss monster Larstastnaras after her defeat in the story quest.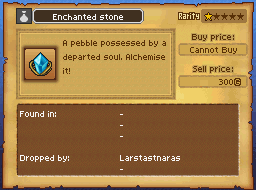 Other languages
Other languages
French
Pierre enchantée
German
Unknown
Spanish
Unknown
Italian
Unknown
Dutch
Unknown
Swedish
Unknown
Greek
Unknown
Portuguese
Unknown
Russian
Unknown
Chinese
Unknown
Korean
Unknown
Related Articles
List of item alchemy recipes in Dragon Quest IX