Enchanted stone
Japanese name
せいれいせき
Rōmaji
Seirei seki
Introduced in
IX
An Enchanted stone is a stone made using alchemy in Dragon Quest IX. It can be used to make many things using alchemy.
Enchanted stones can be made using two thunderballs, two ice crystals and a mystifying mixture. The mystifying mixture is also made with alchemy, while the thunderballs and the ice crystals can be found lying on the ground in certain spots (see Map of material locations in Dragon Quest IX)
Enchanted stones can also be found in chests, and one enchanted stone is dropped by the boss monster Larstastnaras after her defeat in the story quest.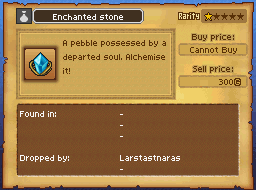 Related Articles
List of item alchemy recipes in Dragon Quest IX
Ad blocker interference detected!
Wikia is a free-to-use site that makes money from advertising. We have a modified experience for viewers using ad blockers

Wikia is not accessible if you've made further modifications. Remove the custom ad blocker rule(s) and the page will load as expected.