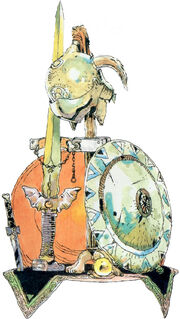 Erdrick's sword (Sword of Erdrick, Loto's Sword in the GameBoy remakes) is a powerful sword featured in the first three games in the Dragon Quest game series that once belonged to the legendary hero, Erdrick. The name returned to being called Erdrick's sword for the games later released on Android and iOS.
Appearances
In Dragon Quest, Erdrick's sword is the most powerful sword in the game. It is hidden in Charlock Castle.
Finding Erdrick's Sword
Erdrick's sword is the most difficult item in the game to get. It's located deep in the bowels of Charlock Castle. To get it, go into Charlock Castle and walk directly behind the throne and search. A staircase will appear. Go down the stairs to the next floor. Follow the path to the only staircase on that floor. On the next floor do the same thing. There is only one staircase that you can reach. The next floor is more complicated. Start by going to the right as far as you can, then go down and take the first right. When you can't go right any further, go up until you can't go up any further. Now go left until you can't go left any further. Then go down and take the last staircase. At the next floor, work your way to the bottom right hand corner. Now go up until you see a passageway. Do not go down this one. Instead, go left for two steps and then down along the other side of that wall. You will see a staircase going up. Follow the path until you reach another staircase, as there is only one on this path. Go down the stairs and you will easily see the next staircase to take. On this floor there is only one staircase, but the path is longer. When you go down the next staircase, you will see a treasure chest. Erdrick's Sword is contained within!
Thou hast defeated the spoiler.
In II, Erdrick's sword is known as Sword of Erdrick and it is once again located within Charlock Castle. Unlike Dragon Quest however, the Sword of Erdrick is not the most powerful weapon in the game (possibly because it is rusted or blunted).
In III, Erdrick's Sword is called the Sword of Kings. You get it from a merchant in Kol after giving him the Orichalcum found in Hauksness in a pasture. While being an extremely powerful weapon, it is not the most powerful weapon in the remakes, the Sword of Rubiss is.
 Erdrick's sword
Attack
+158
Buy Price
0 G
Sell Price
0 G
Flavor text
A well-known weapon once wielded by a legendary lionheart.
Notes
The rusty sword must be refurbished through alchemy.
Erdrick's sword can be obtained by mixing the rusty sword, a piece of Orichalcum, and nine glass frit.
Trivia
See also