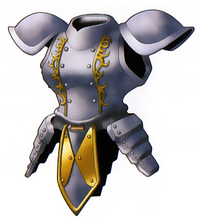 Full Plate Armor is an armor item found in many games in the Dragon Quest series. It can be bought at Kol, Rimuldar, and Cantlin/Mercado for 3000 G, and the wearer gains +24 defense.
Appearances
 Full Plate Armor
Defence
+28
Buy Price
N/A G
Sell Price
1450 G
Flavor text
Steel armour that covers the upper quarters.
Notes
Must be created with alchemy.