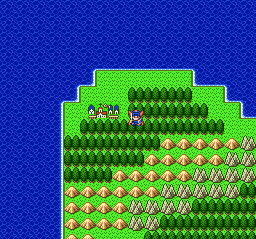 Galenholm is a town located in the northwestern corner of Alefgard in Dragon Quest. It is named for its founder, Galen, who owned the Lyre of Ire. It was preceded by Galen's House, which was present during the events of Dragon Quest III.
Synopsis
Galenholm is typically the first major town the hero visits after Tantegel. It is also revisited later in the game after the hero has obtained a supply of Magic Keys, giving the hero access to Galen's Grave.
Weapon/Armor shop
Item shop
The item shop in the NES version is referred to as a tools shop.
Dragon Warrior (GBC)
Item
Price
Attributes
Herb
10g G
Heals a small amount of HP
Torch
8g G
Lights a radius around the Hero
D-Scale
20g G
Provides a small amount of Defense
Inn
Ad blocker interference detected!
Wikia is a free-to-use site that makes money from advertising. We have a modified experience for viewers using ad blockers

Wikia is not accessible if you've made further modifications. Remove the custom ad blocker rule(s) and the page will load as expected.