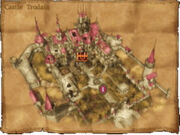 The Kingdom of Trodain is a geopolitical entity in VIII that governs the region of Trodain on the northeastern continent. The seat of power lies in Castle Trodain governed by King Trode and Princess Medea.
The peaceful kingdom was left in shambles after the arrival of Dhoulmagus who stole a magic scepter in the royal heirloom. He used the power of the scepter to curse the entire castle and all the people that lived there.
The whole castle is covered and ruined by thorns. King Trode was transformed into an ugly green monster and Princess Madea a horse, but everyone besides them were put into a deep sleep and their bodies turned into thorns with the sole exception of a low-ranking guardsman. With no news coming out of the castle, the events are shrouded in mystery and many accounts of what happened remain just a rumor.
This article is a stub.
Please help Dragon Quest Wiki by expanding it.
Ad blocker interference detected!
Wikia is a free-to-use site that makes money from advertising. We have a modified experience for viewers using ad blockers

Wikia is not accessible if you've made further modifications. Remove the custom ad blocker rule(s) and the page will load as expected.