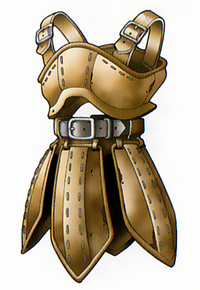 Leather Armour is an armor item which is common in several Dragon Quest games. It is light armor which is often equipped near the beginning of various games.
Appearances
Leather Armor can be bought at Tantegel/Brecconary, Garinham, and Cantlin/Mercado for 70 G. Due to text restrictions in the Gameboy Color remake of Dragon Quest, Leather Armor was renamed to Leathr with a picture of armor besides it.
The leather armour has a defense bonus of +12. It can be equipped by the Hero, Warriors, Clerics, Thieves, Dealers, and Sages.
The leather armour has a defence bonus of +12.
Info
 Leather Armour
Defence
+6
Buy Price
180 G
Sell Price
80 G
Flavor text
Fully frill-free armour of firm, tanned leather.
Notes
Rarity:
Locations
Equipping characters
Characters



See also