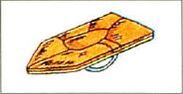 Leather Shield is a shield which is common in several Dragon Quest games. It is a weak shield which is often equipped during the beginning of various games.
Appearances
The leather armour has a defence bonus of +4.
Info
 Leather Shield
Defence
+3
Buy Price
90 G
Sell Price
45 G
Flavor text
An unsophisticated shield of leather over lumber.
Notes
Rarity:
Locations
Equipping characters
Characters



Trivia
Gallery
Ad blocker interference detected!
Wikia is a free-to-use site that makes money from advertising. We have a modified experience for viewers using ad blockers

Wikia is not accessible if you've made further modifications. Remove the custom ad blocker rule(s) and the page will load as expected.