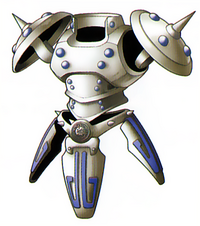 Liquid Metal Armor is an armor item in several Dragon Quest games. It is often one of the strongest armor items in its corresponding game.
Appearances
Dragon Quest VIII
Found at Baccarat casino for 50,000 tokens.
Dragon Quest IX
  Liquid metal armour  (DS:DQ9)
Type
Armor (Torso)
Rarity
★★★☆☆
Defence
+70
Found
Alchemy
Recipe
Metal slime armour × 1 + Orichalcum × 1 + Slimedrop × 6
Vocations
Buy Price
N/A G
Sell Price
24000 G
Flavor text
Armour with a liquid metal slime emblem that staves off spells.
Notes
-18% damage from elemental attacks
Liquid metal armour can be upgraded to Metal king armour.
Dragon Quest Swords
Info
 {{{name}}}
Buy Price
{{{buyPrice}}} G
Sell Price
{{{sellPrice}}} G
Locations
Equipping characters