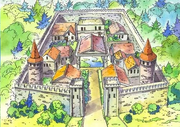 Cantlin
(AKA
Mercado
) is a walled city located in the south central area of
Alefgard
. It exists in
Dragon Quest
and
Dragon Quest III
.
Synopsis
Dragon Quest I
In Dragon Quest, the impenetrable city of Cantlin is typically the last major city the Hero visits. It is surrounded by some of the strongest monsters that roam the overworld. When first approached, the player will battle the Golem who guards the city, which is triggered when the Hero first attempts to enter the walls surrounding the city. This boss battle is a one-time event, and is the only place where a Golem can be encountered. The weapons and armor shop in Cantlin sells the best equipment the character can purchase in the game.
Dragon Quest III
In Dragon Quest III, Cantlin contains references to its future representation in Dragon Quest I, such as a man contemplating the construction of a Golem to protect the city from attackers. At the end of the game, the scholar believes he may not have to build one after all with the land having been saved from darkness; but the events in Dragon Quest I prove he had to, after all.
Dragon Quest Builder
Despite the walled city not being in the game, the Cantlin area was the first place visited by the Builder.
Weapon/Armor Shop 1
Weapon/Armor Shop 2
Weapon/Armor Shop 3
Item Shop
In the NES version, the item shop is referred to as a tools shop.
Inn
Ad blocker interference detected!
Wikia is a free-to-use site that makes money from advertising. We have a modified experience for viewers using ad blockers

Wikia is not accessible if you've made further modifications. Remove the custom ad blocker rule(s) and the page will load as expected.