Minstrel is a vocation in the Dragon Quest game series.
Appearances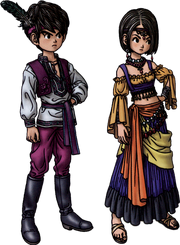 In IX, the Hero/Heroine always begins the game as this class. It has limited healing and damaging spells on top of the ability to wield fans, swords, whips, and shields.. Minstrel is a fairly balanced class, partly because all of a minstrel's stats improve each level, whereas only some of the other classes' stats improve on each level-up. Their Coup-de-Grace is "Rough N' Tumble," which increases evasion and counterattack chances.
Litheness
Spells
This article is a stub.
Please help Dragon Quest Wiki by expanding it.
Ad blocker interference detected!
Wikia is a free-to-use site that makes money from advertising. We have a modified experience for viewers using ad blockers

Wikia is not accessible if you've made further modifications. Remove the custom ad blocker rule(s) and the page will load as expected.