Mirage Mahal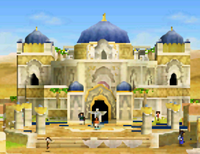 Frontview of Mirage Mahal
Mirage Mahal is the name of Queen Voluptua's castle in Gleeba. It contains the entrance to The Plumbed Depths.
Gallery
Trivia
The Mirage Mahal is a reference to the Taj Mahal, a Mausoleum located in India.
This article is a stub.
Please help Dragon Quest Wiki by expanding it.
Ad blocker interference detected!
Wikia is a free-to-use site that makes money from advertising. We have a modified experience for viewers using ad blockers

Wikia is not accessible if you've made further modifications. Remove the custom ad blocker rule(s) and the page will load as expected.