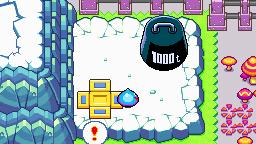 Mt. Krakatroda is the third area in Rocket Slime. The boss here is Pot Belly. It has many refrences to Dragon Quest VIII.
Enemies
Platypunk appears at all times
Wyrtle appears at all times
Living Statue appears at all times
Mimic appears at all times
Imp appears at all times
Ghost appears at night
Goodybag appears at all times
Items
Rockbomb
Slime Knight
Girder
Chest
Thousandweight
Chimaera Wing
Boomerang
Slimes
Kworry
Mag Max
Itsy
Dragory
Crystal Chronicler
Anjello
Goopid
Dummy
Splatrick
Rocky
Bitsy
Flanpa
Diablob
Merc
Lady Poly
Goobrielle
Pebbles
All slimes found reward
Cloaking Device
Ad blocker interference detected!
Wikia is a free-to-use site that makes money from advertising. We have a modified experience for viewers using ad blockers

Wikia is not accessible if you've made further modifications. Remove the custom ad blocker rule(s) and the page will load as expected.