Ad blocker interference detected!
Wikia is a free-to-use site that makes money from advertising. We have a modified experience for viewers using ad blockers

Wikia is not accessible if you've made further modifications. Remove the custom ad blocker rule(s) and the page will load as expected.
Dragon Quest V locations
Roundbeck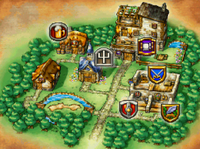 In game map of Roundbeck
Roundbeck (originally Alcapa) is a town in Dragon Quest V. It was the hometown of Bianca when the hero was a child.
Shops in Roundbeck
Weapon store
Weapon Shop
Item
Price
Attributes
Bamboo spear
50g G
{{{attributes}}}
Oaken staff
130g G
{{{attributes}}}
Bronze knife
150g G
{{{attributes}}}
Copper sword
270g G
{{{attributes}}}
Thorn whip
350g G
{{{attributes}}}
Boomerang
420g G
{{{attributes}}}
Armour store
Armour Shop
Item
Price
Attributes
Wayfarer's clothes
70g G
{{{attributes}}}
Leather armour
180g G
{{{attributes}}}
Leather dress
380g G
{{{attributes}}}
Scale shield
180g G
{{{attributes}}}
Hardwood headwear
120g G
{{{attributes}}}
Item store