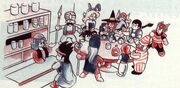 Ruida's Tavern (Lucia's Place or Luisa's Place) is a location in Dragon Quest important to the party system. It allows the player to drop off and pick up characters at their convenience.
Dragon Quest III
In Dragon Quest III Luisa's Place is located in the starting town of Aliahan. It consists of 2 separate NPCs behind counters who control party member creation and addition/dismissal from the player's party. The second floor is the desk where you create new characters, and the first floor is where you go to pick them up. A character banished by the Limbo spell will return to Luisa's Place, and the party will be forced to return to Aliahan to retrieve them.
Dragon Quest V
Luisa's Place makes a return appearance later on in Dragon Quest V. The tavern is in Gotha on the second floor. As with Dragon Quest III, it's the location where party members can be added or removed, but only human characters. However, Monster Gramps is also present to take care of monster characters.
Ad blocker interference detected!
Wikia is a free-to-use site that makes money from advertising. We have a modified experience for viewers using ad blockers

Wikia is not accessible if you've made further modifications. Remove the custom ad blocker rule(s) and the page will load as expected.