The Schwarzman Tank is the tank that the mysterious slime Slival uses to challenge Rocket to tank battles. It is very similar to Rocket's tank in many ways. The only main differences is the colour and Metal King Shield on it. 
The Krak Pot combined it with the Schleiman tank to create the Gott Schliemen.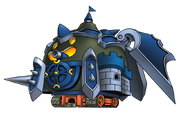 This article is a stub.
Please help Dragon Quest Wiki by expanding it.
Ad blocker interference detected!
Wikia is a free-to-use site that makes money from advertising. We have a modified experience for viewers using ad blockers

Wikia is not accessible if you've made further modifications. Remove the custom ad blocker rule(s) and the page will load as expected.