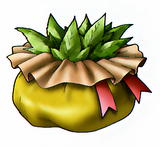 Strong antidote is an item that heals poison and restores about 40 HP to a single ally.
Rarity: 0 Stars
Found in: Wormwood Creek
Dropped by: Raving lunatick
Buy price: 38 G; Sell price: 19 G
Alchemy recipe: Antidotal herb (1) and Medicinal herb (1)

This article is a stub.
Please help Dragon Quest Wiki by expanding it.