Tootinschleiman's Tomb is the second area in Rocket Slime. It introduces the rarely seen Goodybags, they flee on sight, but drop lots of gold, and if you collect 30, It will make a excellent ammo theif on the Schleiman Tank
Story
Rocket is sent to Tootinschleiman's Tomb by His Royal Wobbliness, on behalf that the tomb is said to be the resting place of a great hero, and that it might hold something that the citizens of Boingburg could use to fight the Plob. When Rocket arrives, he finds the castle in which is the tomb of the hero, and he discovers a Platypunk buried in sand. After finding a way to save the Platypunk, he thanks Rocket and after introducing himself to be Ducktor Cid, repairs the Warrior Flute, and Rocket blows it and the castle begins to shake. Rocket and Cid discover the castle is actually the Schleiman tank.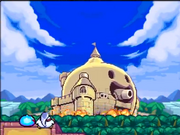 Thou hast defeated the spoiler.
Enemies
Platypunk appears at all times
Jailcat appears at all times
Picksy appears at all times
Hammerhood appears at all times
Mimic appears at all times
Ghost appears only at night
Cactiball appears at all times
Goodybag appears rarely, but at all times
Items
Chest
Catnip
Obelisk
Bombshell
Rockbomb
Slimes
Namby
Perry
Goodtrude
Flantenna
Bud
Goolia
Bunny
Poxie
Curate Rollo
Winkles
Goodith
Slimechanic
Rustle Sprout
Startist
Shelby
Prince Pigummy
Curedon Bleu
Hooly
All Slimes Found Reward
Steel Broadsword
Ad blocker interference detected!
Wikia is a free-to-use site that makes money from advertising. We have a modified experience for viewers using ad blockers

Wikia is not accessible if you've made further modifications. Remove the custom ad blocker rule(s) and the page will load as expected.