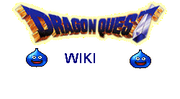 I saw a comment on the blog posts saying that the wiki logo should contain slimes, since they are an iconic part of the game. I don't know who has the permission to change the wiki logo, but I would like to propose changing it to something like this. Leave comments to tell me what you think!
(P.S. Yes, I realize this picture is pretty bad quality, but it's just a basic idea.)
Checking back, I have added another picture with Erdircks shield in the middle. Again if you have any ideas let me know, and i'll try to add them. Also do you think it would be a good idea to change one of the slime to a metal slime?
One more question I would like to ask everyone, is who actually has the ability to change the logo?
As for the metal slime addition, should I add replace one of the normal slimes with one, or put it somewhere else, possible at the top middle of the logo?
I had a comment saying the logo needs more color, so I was thinking, what if we changed the letters to yellow, keeping the gitting darker going down. The only problem is, what color should the sides of the letters be, since the yellow would kinda blend in. Let me know what you think!
Another update, I still need word back from Adan Aileron, but I have another logo up for voting (Idea given by Gladiator Ayan)!
And yet again! We've gotten back word from Adan Aileron, and he can change it! The only problem is that there is a pixel limitation, so that basically make the first three useless until updated >__<. I have another Idea, and If you want and old one back into the loop, just let me know, and I'll update it!

Ad blocker interference detected!
Wikia is a free-to-use site that makes money from advertising. We have a modified experience for viewers using ad blockers

Wikia is not accessible if you've made further modifications. Remove the custom ad blocker rule(s) and the page will load as expected.